Okay, so I had a blog post of my own to add today, in addition to the vlog linkup. I know, two in one day?! Get outta town! But that didn't happen (you'll see why), so I decided to do
Shannon's So What! Wednesday
linkup. So what!?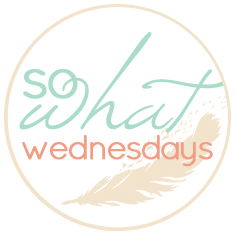 So WHAT if...
I had a blog post about my Crossfire recap typed up on my work computer in a word document and forgot to save it to my drafts to post tonight once I got home

Today is Thursday and I'm doing So What Wednesday... see above
I got $41.08 in gas today?! The pump wouldn't stop on an even number after several attemps, and... Ain't nobody got time fo dat!
My muscles are sore... that's a good thing, right? Bring on the workouts
Today is Thursday, because I'm OFF tomorrow!!!
Hubby is working nights this week and next... Next week is his LAST WEEK on second shift! Yay for him and his new job!!!
If my washing machine is loud enough to wake the dead?! At least the clothes are getting washed!
My scale isn't moving- my clothes are fitting better and I got a ton of compliments tonight
My face was shiny and oily today- I'm getting new makeup tomorrow!!! Holla!
We're running the Color Me Rad 5k on Saturday... wait! That's a pretty big deal!